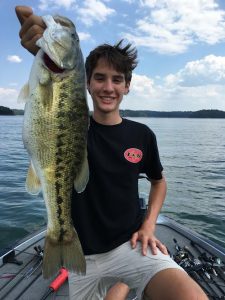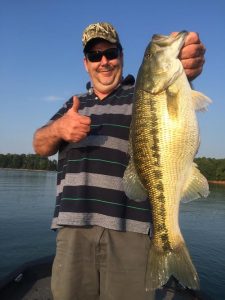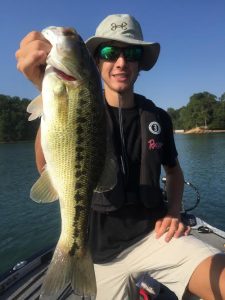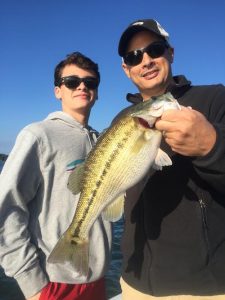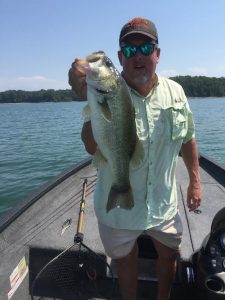 Water Temp: 83 degrees
Lake Level: 5.84 feet below full pool
The fishing on Lake Lanier has continued to improve.  The water temperatures and level continue to drop as the nights are getting a bit cooler, and the corp continues to pull water.  Look for a great fall fishing experience if the lake continues to drop.  I'm hoping for around 7 feet down going into October.  That should really make for a great fall bite.  Not much has changed in terms of our approach since last week, the fishing has just gotten better.  We have still been targeting Largemouth for the first 90 minutes or so of the day.  We have been focusing shallow in pockets and on points for these fish. Topwater poppers, a Prop Bait, a swim jig, and a small shallow diving Spro crankbait have all worked in these areas.  As you would expect, the fish have been very shallow. After the early morning bite, we have been working humps and points with close access to deep water.  Fish are typically around areas with brush, but not always.  A drop shot presented to fish you see on your Lowrance has been effective, especially as the day progresses.  The better fish are often in the 30 feet range or deeper.  Also, you can work the topwater baits and swimbaits over the brush and expect a response from any active fish within the first few casts.  If you get no response on top, switch to a SuperSpin and swim the bait around and over the brush. Focus on both main lake and creek mouth points and humps, and remember sometimes the fish are relating specifically to the brush, so make sure to work the brush thoroughly as well.  Brush in 20-30 feet has been most productive this week.  There are even more fish that are positioned out deeper in the 35-40 foot range as well, on the first break out from the brush piles you will be targeting.  The spots have really started to spread out in these deeper areas, and you will often find them relating to timber tops and edges.  A SuperSpin and a big flutter spoon can be effective to catch these fish when they are active.  September is here and some great fishing lies ahead!  Make sure to get your date booked for this fall ASAP as they will go fast!  Here is what I have open for September:  19, 21, 22, 23, 27, 28, 29, 30.  Give me a call and let's get out and have some fun! Thanks to all and May God Bless.