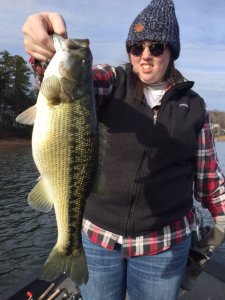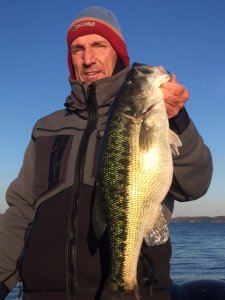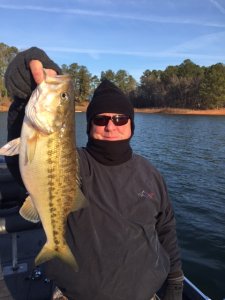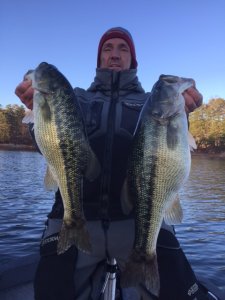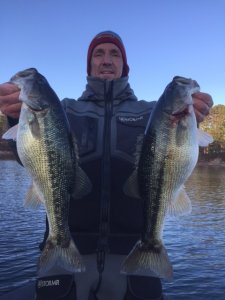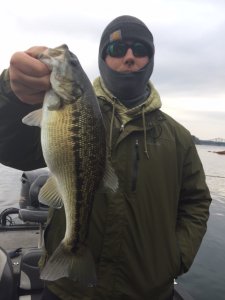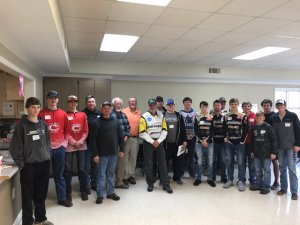 Hey Gang!  Stay tuned for Jimbo's Lake Lanier Bass Fishing Report below.  It's still a great time to learn the deep winter bite and really learn the keys to catching fish when the bite is tougher. While the catch rates for trips this time of year is not as good as others, I believe the learning opportunities are at their best right now.  And don't forget, that fun pre-spawn bite is just around the corner, so reserve your date now!  Following is a list of my upcoming open dates in February: 6, 7, 12, 13, 14, 15, 19, 20, 21, 23, 24, 26, 27, 28.  Give me a call and let's get out and learn these deep winter fish as well as the early pre-spawn bite!  Jimbo – 770-542-7764
SEMINAR REVIEW
Thanks to all that attended my recent Seminar and High School Fishing Bootcamp.  We had great attendance at both and really enjoyed the opportunity to welcome everyone into our custom learning environments.  We are already working on upcoming events and have some special things in store – including my wife's famous Sausage Gravy and Biscuits at the next winter Seminar!  Make sure to lock in Saturday, January 5, 2019 on your calendars for the next Jimbo Winter Seminar!  You will not want to miss this great event packed with more vendors and speakers!  Also, we considering doing a fall seminar focused on fall and early winter techniques.  Let us know your thoughts and and interest level in an event like this.  Email me at:
[email protected]
with your thoughts.  Check out the comments from some of our attendees
HERE
. Thanks!
LANIER BASS FISHING REPORT
Water Temp – 47 degrees
Water Level – 4.8  feet below full pool
It's good to have more seasonal temperatures and weather in place this past week or so.  Hopefully, we are done with the bitter cold temperatures for awhile!  I am still getting out a few days a week, but have not been able to run a normal full schedule due to the weather of late.  We are still seeing some more ditch activity this week, mainly out deep.  The timber edges in and around 30- 40 feet have been productive with a Picasso Shake Down Head and worm combo.  We have been dropping directly on the fish we are seeing on the Lowrance electronics.  Casting in these areas can also be effective, but the drop down has been best, targeting specific fish we see on the graph. A drop shot is also working on these deeper fish – I have been favoring minnow imitations lately, like a fluke. The spoon bite is still there on some days as well, so make sure to keep that in your arsenal and ready for action.  It just depends on the day, so be flexible in your choices.
ALSO WORKING….
The steeper rock points and banks on the main lake and in the creeks have been productive at times also.  The Picasso Shake Down head/green pumpkin worm combo along with a Chattahoochee Jig have done well in these areas.  We have been presenting these baits very slowly in these steep rock areas.  Look for the fish to be shallower in these areas on sunny days, and deeper on cloudy days.  When the wind is up, try your SPRO Little John DD on the rocks as well for some fish.  Don't expect a lot of bites, but some good ones.  Don't miss the opportunity to throw a SuperSpin in the same places as well. Also of interest, in the afternoons of sunny days, we have found some biting fish in smaller, shorter pockets close to deep water.  These fish have been in 15-25 feet and often around docks. Look for the areas that are protected from a north wind and get lots of sun.  This pattern is just like an early spring pattern, so think in those terms as you pursue it.  Sun and warming water is the key.
OPEN DATES…
It's still a great time to learn the deep winter bite and really learn the keys to catching fish when the bite is tougher. While the catch rates for trips this time of year is not as good as others, I believe the learning opportunities are at their best right now.  And don't forget, that fun pre-spawn bite is just around the corner, so reserve your date now!   Following is a list of my upcoming open February: 6, 7, 12, 13, 14, 15, 19, 20, 21, 23, 24, 26, 27, 28.  Give me a call and let's get out and learn these deep winter fish as well as the early pre-spawn bite!
Thanks to all and May God Bless!