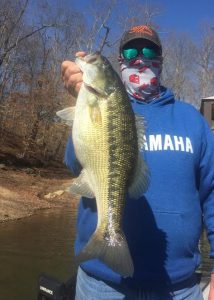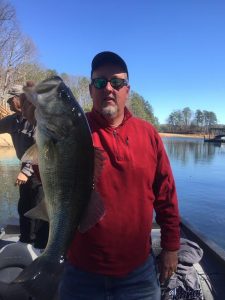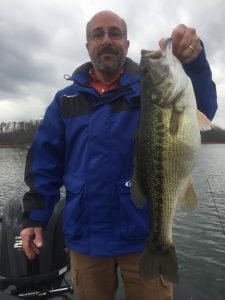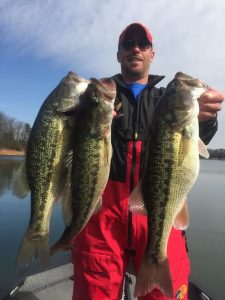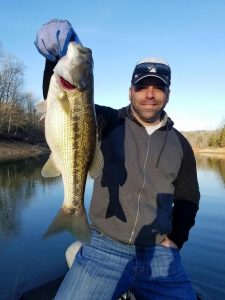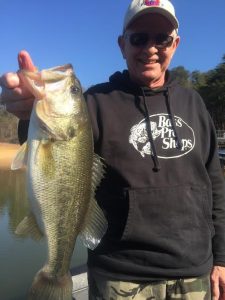 Here are the dates I have open in February:  24  March: 1, 7, 9, 10, 13, 14, 15, 17, 20, 21, 23, 24, 27, 28, 29, 30
Water Temp – 53
Water Level – 9.98 feet below full pool
Hey Gang! The bass fishing on Lake Lanier remains good.  The fish are ahead of schedule with all the warm weather we are having. We have set just below 10 feet below full pool for several weeks, and for the first time in a LONG time, we are just ABOVE 10 feet down.   The word of the day is shallow gang.  The fish have been very shallow over the past week. The ditch bite continues to be good and we are catching them using the traditional ditch fishing methods – SuperSpin, Jerkbait, Jig, and Picasso Shake-E Football jighead.  Start back shallow in these ditches early, and remain shallow through the day.  Focus on the key features you find shallow near the ditches as well such as clay and rock points.  We are starting in ditches and staying in them through the day as well as working shallow pockets just off the main lake or main creek channels. Most days we are focusing in 15 feet of water or less. We are starting with a SuperSpin tipped with a boot-tail type trailer right in the ditch. Also, a Spro McStick or McRip has been a good choice as far as jerkbaits go, in addition to a Megabass Vision 110.  A finesse worm on a Picasso Shaky Football Head or a Chattahoochee Jig has been a good alternative if the fish are not as aggressive.
As the sun gets up, check the shallow docks in ditches and pockets for activity.  Work a jerkbait beside these shallow docks, as well as a jig and worm.  These fish are already starting to stage in preparation for the spawn.  You will find spots and largemouth in these places.  You will be shocked to see how many fish are under these docks!   I am now guiding in a Brand New Xpress Bass Boat – 21'3″ powered by a 250 Yamaha SHO and equipped with the latest Lowrance HDS Gen III units featuring 3D Structure Scan technology.  Come take a ride in this beauty!    This is a great time to learn the early spring bite on Lanier.  They are up and moving!  Here are the dates I have open in February:  24  March: 1, 7, 9, 10, 13, 14, 15, 17, 20, 21, 23, 24, 27, 28, 29, 30  Give me a call and let's get out and have some fun!
Thanks to all and May God Bless.