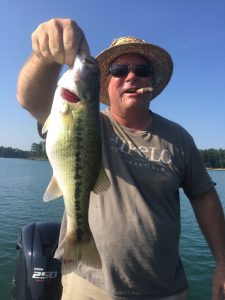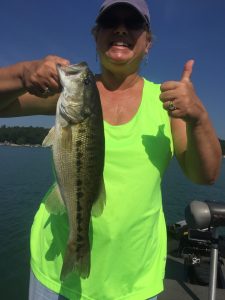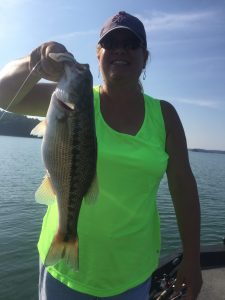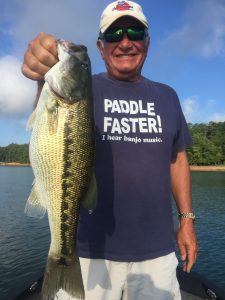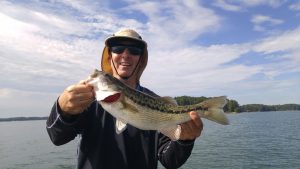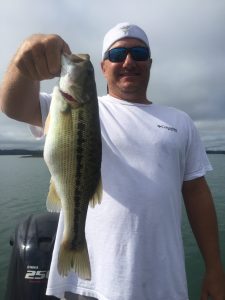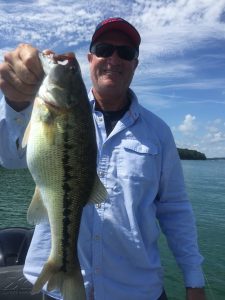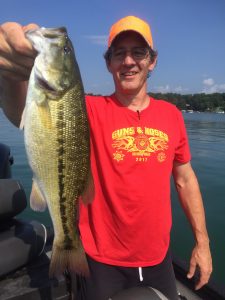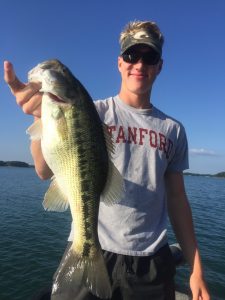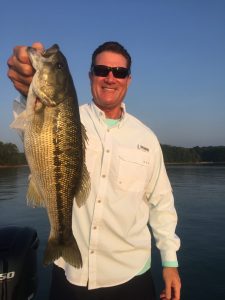 I have THIS FRIDAY 7/28 OPEN!  Here are my next open dates after that:  August 1, 2, 3, 7, 8, 9, 10, 11, 14, 15, 16, 18
This is a great time to learn deep water brush fishing on humps and hidden points, deep ledge fishing, drop shot fishing, as well as still enjoy some good topwater fishing.
Water Temp – 86
Water Level – 5.4 feet below full pool
We have had some great trips over the last couple of weeks!  The fish have been cooperating very well for late July and I have enjoyed putting people on some great fish.  I have had some wonderful father/son teams as well as some out-of-town visitors that I have enjoyed getting to know.  Always great to see the kiddo's during the summer as well.  It's very rewarding to get them on the fish!  Thanks for tuning into these reports – I really love what I do and enjoy the opportunity to share the joys of fishing with everyone!  Tight Lines and read on for the latest fishing report.
The fishing on Lanier remains good and we are still getting some quality fish around brush on off-shore structure such as points and humps. Not much change in the approach over the past week.  The topwater bite is still decent ableit more inconsistent.  Most days will offer periods of good topwater fishing, but count on having to do some other things during parts of the day to get bit. On the topwater side, a chug bug, a sammy, a whopper plopper, and a fluke have been my main choices for topwater, and a sebile for a swimbait.  Focus on offshore structure with cover, such as brush on humps and points, for this approach. We are still focusing on brush in 18-25 feet of water, but start looking at the deeper stuff as well, up to and including timber edges in 35 feet on the same type structure.  Focus on the areas that offer close proximity to much deeper water.   We are still seeing a good schooling bite most mornings.  What they will bite changes from day to day.  Bring it all with you.  LOL. When the fish are schooling, pay attention to the size of bait they are chasing.  Match the size of your topwater to the size of the bait on which the fish are focused. The drop shot bite continues to improve and it is a good option when the topwater bite slows.  I have been using the Lanier Baits offerings.  Candy has seemed to again be the best color this week. Remember, Fruity Worms Rule!  Also, look for the SuperSpin bite to really improve over the next few weeks as the fish become less and less willing to come to the surface.   Work these baits around points and humps with brush and vary the areas of the water column you work until you find the sweet spot. I am fully booked for July. Here are my next open dates:  August 1, 2, 3, 7, 8, 9, 10, 11.  Now is a great time to learn off-shore fishing for summer bass on Lanier!  Deep humps, hidden points, and ledges are a focus now – Give me a call and let's get out and have some fun!  Thanks to all and May God Bless.