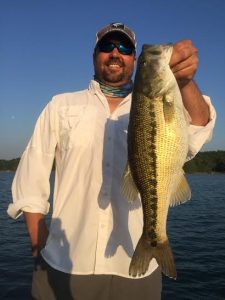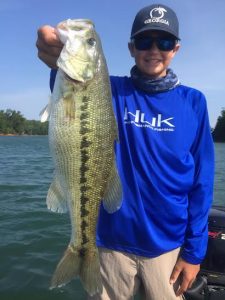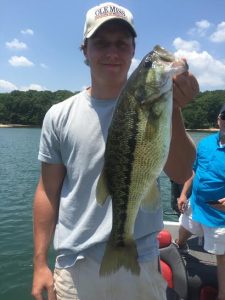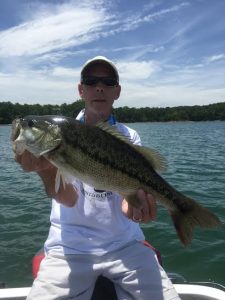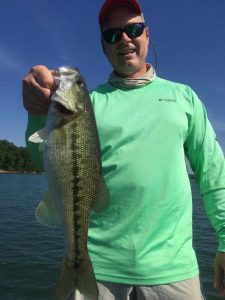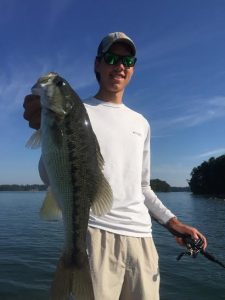 Water Temp: 82 degrees
Lake Level: 3.11 feet below full pool
Here are the dates I have open in July:  10(AM), 11, 12, 27, 28, 29, 30(AM). I am also booking for August! The fishing on Lake Lanier has been good this past week.  The US Army Corp of Engineers continues to pull water through the week and therefore the lake levels are continuing to drop.  The lake sets at a little past 3 feet down currently. The early morning bite for spots has been good with a variety of baits to include topwater like a chug bug and a gunfish, as well as a plastic swimbait on a Picasso Swim Head and a SuperSpin.  We have been working humps and points with access to deep water.  Fish are typically around areas with brush, but not always. The early morning bite has been mainly a schooling bite. Catching these fish, which are often big ones, requires a precise cast to the area of activity.  Set up your rigs to make long casts to be ready for these situations. After the morning schooling bite, we have had good success running and gunning brush piles around the lake with topwater baits such as a chug bug and a Vixen, as well as with a SuperSpin. Work the topwater baits over the brush and expect a response from any active fish within the first few casts.  If you get no response on top, switch to a SuperSpin and swim the bait around and over the brush.  When the moving bait bite slows down, switch to a dropshot worm and work it vertically on fish you can see on your Lowrance. Focus on main lake rocky points and on secondary points as well, and remember sometimes the fish are relating specifically to the brush, so make sure to work the brush thoroughly as well.   Here is what I have open in July:  10(AM), 11, 12, 27, 28, 29, 30(AM). I am also booking for August!  Give me a call and let's go fishing! Thanks to all and May God Bless.