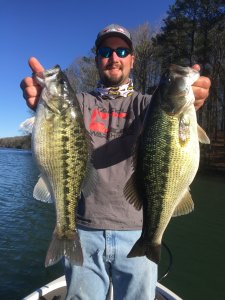 Following is a list of my upcoming open dates for Spring:  April: 24, 25, 26, 27.  May: 1, 2, 4,  7, 10, 11, 14, 15, 16, 17, 18, 22, 23, 30, 31. Give me a call and come enjoy some outstanding Spring Fishing on Lake Lanier!
Hey Gang!!
The FLW pro's showcased our great lake last week in premier fashion.  Even in the face of multiple cold fronts, this lake really shined and the weights were impressive.  I loved the fact that many of these professionals noted what an incredible fishery we have here and that we should all work together to protect and preserve it.  I hope we all can continue to do just that.  I encourage you to get tuned into the FaceBook page "Lake Lanier Bass Coalition".  Here we promote conservation of our fishery through informational news, articles, and DNR feedback.  Check it out and stay involved to protect our lake!
Lake Conditions
Water Temp – 51 degrees
Water Level – .4 feet below full pool
The lake level remains stable resting at .4 feet under full pool and around 51 degree surface temperature.  I have heard recently from DNR officers that the Corp of Engineers plans to keep the lake up and fairly steady through the spawn, which is excellent news.  I hope this is truly the case, as it will lend to a solid bass and baitfish spawn – all good things for our lake.  The backs of the major creeks are still stained, and the main lake below Brown's Bridge is still clear. The waters above Brown's Bridge are more stained in the main river areas than the lower lake, and the further you go north, the heavier the stain.
What the fish are doing…
While the cold has knocked them back somewhat, they are still biting.  Many options to catch fish still exist and you can pretty much chose your approach, although one will work better than another on any give day. A Picasso Shake-down head and worm combo is hard to beat right now for bites, and on some days, big ones.  SPRO crankbaits like a Rock Crawler or a Castaway Baits 1.5 shad crank and jerkbaits like a McStick along with double willow spinnerbaits have all been working well.  And, as we saw from the FLW event this past week, a Keitech on a jig head is working well when slow reeled on the bottom of the aforementioned points.  The location and technique for the best bite does seem to vary each day, and sometimes dramatically.  So stay flexible in your approach.  There are some early spring techniques working out in deeper water, but we have remained focused on the pre-spawn activity in shallower water (1-20 ft).  Try one type of area or technique, and if that is not working, move on.    We are working shallow, flat points, both rock and clay, both in pockets as well as on the main lake. The steeper stuff has held some fish too, and can be a good choice given the recent cold fronts.  Also the longer running points are starting to hold fish as well – check the reef poles and shoal markers on those warmer days.  Creeks and main lake are both producing, and as usual, focus more on the main lake or mouths of creeks for the bigger fish, and back in the creeks for numbers, but you are apt to catch a big fish anywhere right now. That's what makes this time of year so much fun!
Check the docks…
As usual for this time of year, the docks are also holding fish.  Check those docks back in creeks or pockets that are in 20 feet of water and less. With the cold fronts, check some of those in deeper water as well, as these can be productive for those fish just moving up or ones that have pulled back due to the colder conditions of late.  Look at the last 2 or 3 docks in any creek arm or pocket for those largemouth.  Look for the fish to be under the docks when the sun is up, and more just around the docks in low light or clouds. A Picasso Shake Down head and worm combo or a Spro Jerkbait and a Vision 110 are good options around the docks.
Open Dates
Spring is here, the bite is on, and I am filling up fast.  I only have a few days left open in both March and April.  Please get with me soon if you would like a trip this spring.  My March is full, and I only have 4 dates left open in April.  Following is a list of my upcoming open dates for Spring:  April: 24, 25, 26, 27.  May: 1, 2, 4,  7, 10, 11, 14, 15, 16, 17, 18, 22, 23, 30, 31. Give me a call and come enjoy some outstanding Spring Fishing on Lake Lanier!
Thanks to all and May God Bless!