What fish can you catch while fishing in Lake Lanier?
Although Jimbo specializes in catching Spotted Bass, he also targets largemouth bass during specific seasons. The occasional Striper is also caught especially in the late spring. Lake Lanier produces large spotted bass, which can be attributed to the abundance of blue-black herring bait fish in Lake Lanier. Jimbo and his clients catch spotted bass weighing over three pounds daily. Four-pounders are not uncommon. The occasional five-plus pounder provides extreme excitement! The current record for the largest spotted bass in Lake Lanier is 8 lbs., 0.5-ozs.
Spotted bass are highly regarded as a sport fish due to their tenacity and fighting spirit. Jimbo has a deep appreciation for the species and takes great care to ensure that each catch is safely released back into the lake. His dedication to responsible fishing practices has earned him a reputation as a respected and responsible member of the angling community.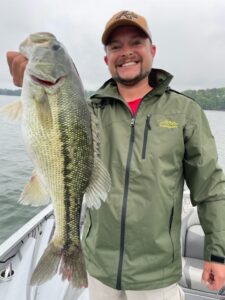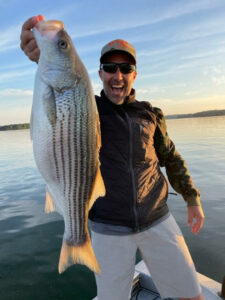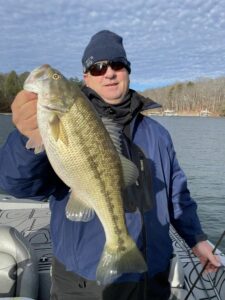 What are the other fish you can catch in Lake Lanier?
CRAPPIE: Typically the best crappie fishing on Lake Lanier comes during the early spring, during the spring spawn.
STRIPED BASS: Naturally found in saltwater, striped bass were introduced into freshwater Lake Lanier and thrive. The largest striper in Lanier weighs in at 47 lbs. They are so popular our Minor League Baseball team the Gwinnett Stripers are named after them.
CATFISH: Both Channel Catfish and Flathead Catfish can be found in Lanier, and are easily caught in the summer.
RAINBOW TROUT: Although the stocking of rainbow trout in Lake Lanier stopped in the 1990s, some can still be found especially below Buford Dam.
WALLEYE: These toothy fish are nocturnal. If you are interested in night fishing on Lake Lanier, target these fish as winter turns into spring.
This is probably not an inclusive list, but these are the most known fish you can catch in Lake Lanier.