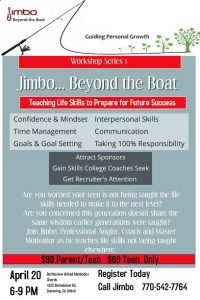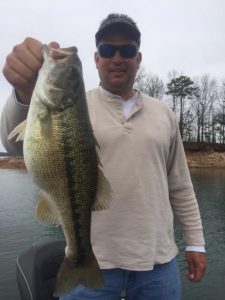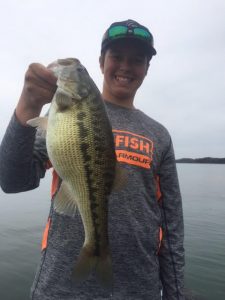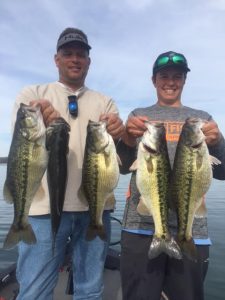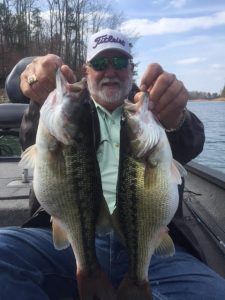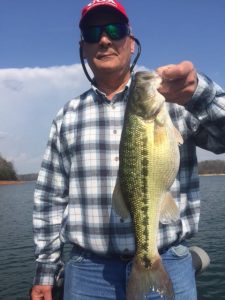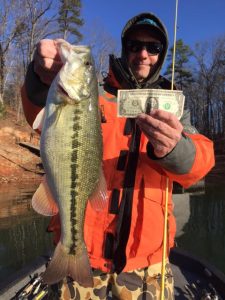 Here are my open dates now through April:  March: 25, 29 (AM) April: 1, 3, 6, 15, 17, 19, 20, 24, 25, 26, 27, 28, 29 
I am thrilled to announce a new venture upon which I am embarking: Jimbo… Beyond the Boat.  We will be hosting High School Workshops quarterly over the next year, with the focus on providing our youth the tools needed to quickly rise to success in their future endeavors. I believe that our youth could benefit from learning some key leadership, communication, confidence, and responsibility principles.  Our first workshop is on April 20th, and if you are or parent a teenager, or soon-to-be teen, I would ask that you strongly consider attending!  I have attached a flyer above with all the details.  Now, onto fishing!
Water Temp – 55
Water Level – 9.93 feet below full pool
The fishing on Lake Lanier has been strong this week and has recovered well after the cold front we had last week.  We are really starting to see some great activity out there and some real signs the spots are starting to move up and stage in mass. We had an exceptional day on Wednesday this week, catching great numbers with our best 5 going nearly 21 pounds. Check out the picture above with Mark and his son Jake.  We have been focusing on main and secondary rocky points and pockets in 15 feet of water or less for the majority of this past week.  A green pumpkin finesse worm on a Picasso Shakedown Head or a Chattahoochee Jig have been money this week for the majority of our catches.  We are working the Shakedown Head on 8 lbs test Seaguar Abrazx fluorocarbon.  I believe the lighter line leads to more bites on this bait as it helps allow the baits to present more naturally.  I fish my jigs on 15 lbs test Seaguar Tatsu fluorocarbon, which is the toughest stuff you will ever find.  You can tow a boat with this line, yet it remains limp and very easy to manage.  It's more expensive but definitely worth it, especially for high impact hook-set techniques like a jig.  Look also for the shallower brush on points and in pockets through the day as well, as we have been finding some fish staging around this brush – again in the 15-18 foot range.  As the sun gets up, check the shallow docks in ditches and pockets for activity.  Work a jerkbait and a soft plastic swimbait beside these shallow docks, as well as a jig and worm.  These fish back in the creeks are also staging in preparation for the spawn.  You will find spots and largemouth in these places. This pattern definitely works better when the sun is out as opposed to cloudy conditions.  The clouds make the fish scatter and often bottom locked as well.  While they still remain close to the dock, they are often not directly under the docks. The fishing is definitely more random under cloud cover.  I am now guiding in a Brand New Xpress Bass Boat – 21'3″ powered by a 250 Yamaha SHO and equipped with the latest Lowrance HDS Gen III units featuring 3D Structure Scan technology.  Come take a ride in this beauty!   This is a great time to learn the pre-spawn bite on Lanier.  They are up and moving!  Here are the dates I have open now through April:  March: 25, 29 (AM) April: 1, 3, 6, 15, 17, 19, 20, 24, 25, 26, 27, 28, 29.  Give me a call and let's get out and have some fun!  Thanks to all and May God Bless.