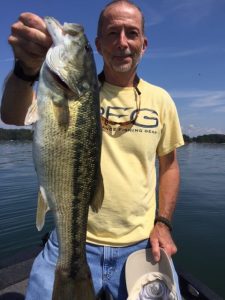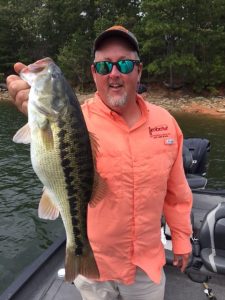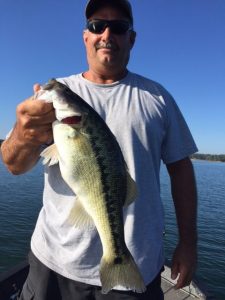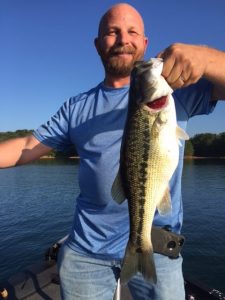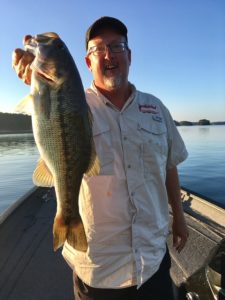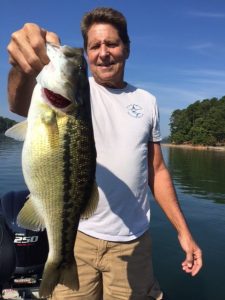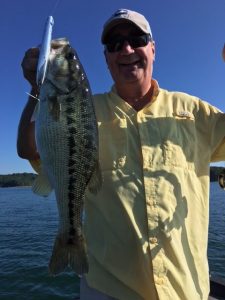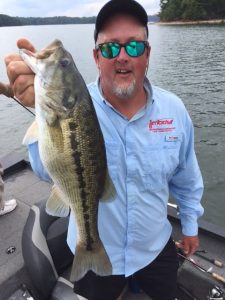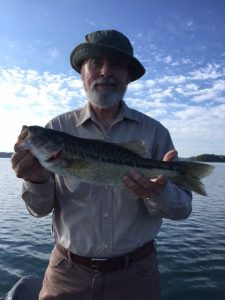 Here are my open dates for October: 11(PM), 12, 18, 19,  24,  25,  26,  27, 30, 31.
Hey Gang!  Once again you guys have kept me very busy through the month of September and I am very grateful – THANK YOU! The fishing has been awesome, and I can tell you that I believe we have an outstanding fall topwater season ahead of us in the weeks to come.  I hope you can take the opportunity to book a trip and get out with me to enjoy an unforgettable experience!
Water Temp – 77 degrees
Water Level – 5.7 feet below full pool
Well another week of unseasonably warm weather is in the books.  The lake temperature has came up about 3 degrees since last week's report, and the water has dropped .3 feet in that time. Both the main lake and creeks in the lower lake are sporting clear water.  The fish are very near where they will be as the water cools, specifically at the mouths of creeks around points and humps. However, they have pulled out deeper with this warm weather over the past 10 days.  There continues to be a good schooling bite just after daylight in the mouths of the major creeks around points and humps. After that, we have been focusing on location more similar to a late summer pattern – namely, places very close to deep water.  We have been throwing 3 things most days all day: topwater, swimbaits, and a fluke.  A Sebile and a Chug Bug have worked well on the schooling fish.  After the schooling bite slows, we have been running steeper points and humps close to deep water as a general rule.  Stay back off of these locations further than you normally would, as you may find some schooling through the day over the deeper water as you approach these humps and points. Be on alert as soon as you take the boat off plane, as the schooling can initiate quickly after your arrival. I look for the cool front that is coming this weekend to change things significantly.  I anticipate the fish to be back up shallower on these same places I am referencing.  Once the water gets back to the mid-70's or so for water temperature, we should start seeing some outstanding topwater and swimbait action through the month of October.  I hope you will give me a call and come enjoy this awesome experience with me!    Here are my open dates for October: 11(PM), 12, 18, 19,  24,  25,  26,  27, 30, 31.  Give me a call and let's get out and have some fun!
Also, a HUGE THANK YOU to all my incredible sponsors who support me so I may do what I love to do: Seaguar, Lowrance, SPRO, Hammonds Fishing, GLoomis, Shimano, PicassoLures, Perry's HiTech, Xpress, Yamaha, Chattahoochee Jigs, Sweet Bait Swimbaits.
Thanks to all and May God Bless.