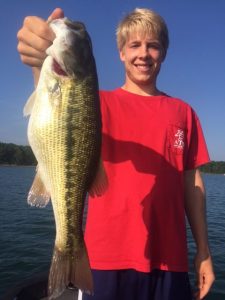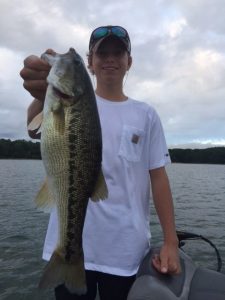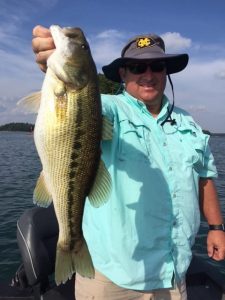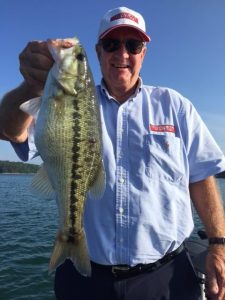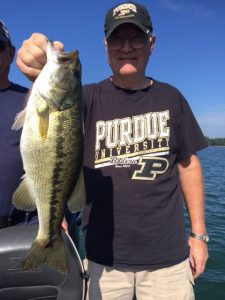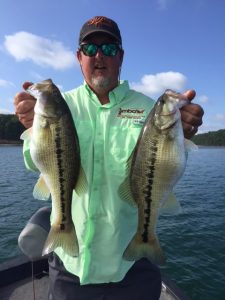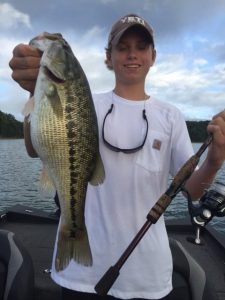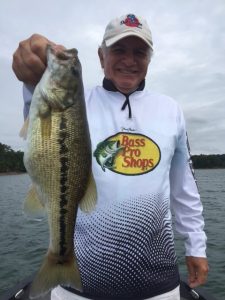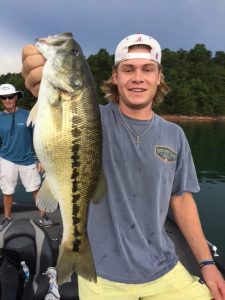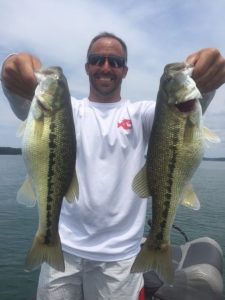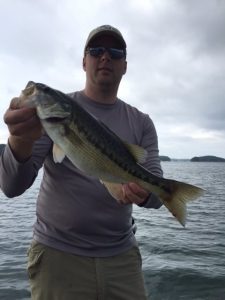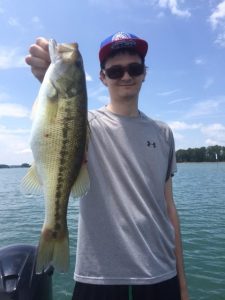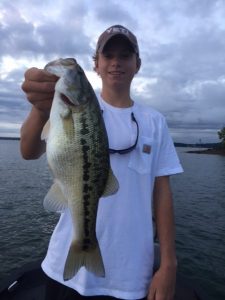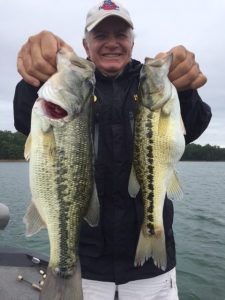 I have this Friday Morning, September 1st Open! Here are my other upcoming available dates: September:  5, 7, 8, 11, 12, 15, 16, 19, 23, 25, 26, 27, 28, 29, 30
Water Temp – 83
Water Level – 5.8 feet below full pool
It has been a little while since my last report – my apologies!  You folks have kept me very busy this summer, and I am grateful for all the wonderful people that chose to come out with me.  I am humbled and honored with your business – thank you all so much!!
The weather is starting to cool again this week as it seems we may be in for an early fall. Boy I hope so!  The lake levels have dropped a little since last week, but we have some rain coming in soon, so I expect the lake to be on the rise again shortly.  The fishing has been very good this summer, and I think the cooler than normal summer has played a part in that.  Each day is different however, and fish have different preferences in accordance.  Remain flexible in your approach.  You can catch fish from 15 feet all the way out to 40 and beyond depending on what  techniques you prefer.  Some days, those bigger fish are out in deeper water (30+) and if you want quality, you need to spend the time out there with the likes of a dropshot or flutter spoon.  With all that said, we are still getting some quality fish around brush on off-shore structure such as points and humps. We are still seeing a good schooling bite most mornings and it has been lasting upwards of 2 hours.  A smaller swimbait has worked well this week on the schooling fish.  Also, a Spybait is a good option as well when the fish are on the move but not eating your larger offerings. Throw that little thing out and let it sink to about a 10 count, then SLOWLY retrieve. On the topwater side, a chug bug, a gunfish, a whopper plopper, and a fluke have been my main choices for topwater, and a sebile for a swimbait.  Focus on offshore structure with cover, such as brush on humps and points, for this approach. We are still concentrating on brush in 18-25 feet of water, but as I mentioned above, the deeper stuff, up to and including timber edges in 35-40 feet on the same type structure, is holding fish as well.   In general, focus on the areas that offer close proximity to much deeper water. Those areas will now hold the best numbers and size of fish.   I continue to use the Lanier Bait offerings with good success on the drop shot, and there are many good colors from which to choose.  Make sure to rig your drop-shot with 6 or 8 lbs test Seaguar Fluorocarbon in Invizx or Abrazx.
I have this Friday Morning, September 1st Open! Here are my other upcoming available dates: September:  5, 7, 8, 11, 12, 15, 16, 19, 23, 25, 26, 27, 28, 29, 30  Fall is coming and so will be that awesome topwater and swimbait bite.  Don't miss it, schedule your trip now! Give me a call and let's get out and have some fun!  Thanks to all and May God Bless.