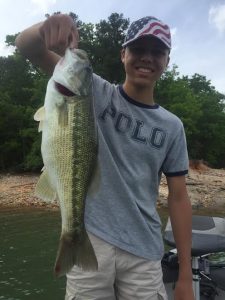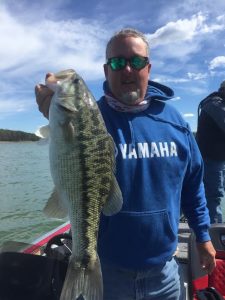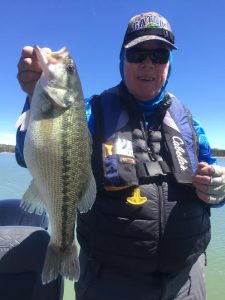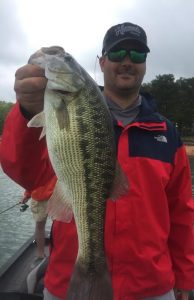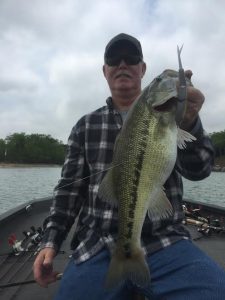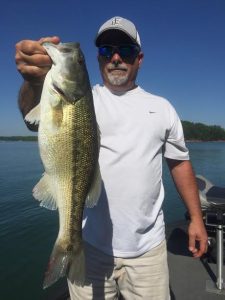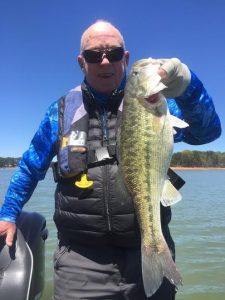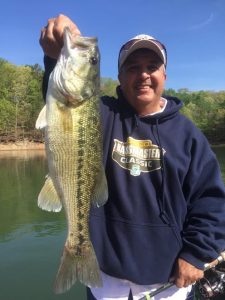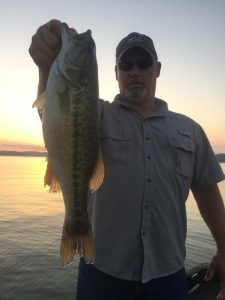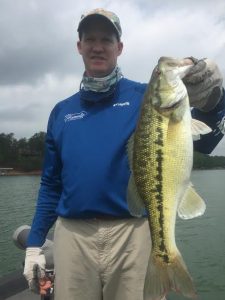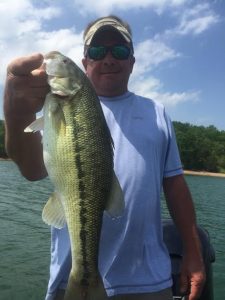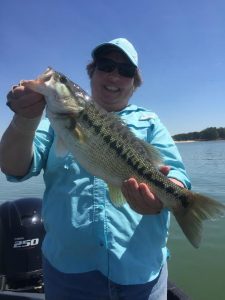 I only have four dates remaining open in May: 19, 20(AM), 23(AM), 31.  June promises to be an AWESOME topwater bite, and those dates are starting to fill as well. Call or email NOW to reserve your late-May or June trip! Now, enjoy the latest Lake Lanier Bass Fishing Report courtesy of Jimbo on Lanier!  Thanks and Tight Lines!
Water Temp – 66
Water Level – 7.82 feet below full pool
More rain this week, and the temperatures are chilly!  Wow, is this May??  We must be paying for some of that early warm weather we received this year!  The lake continues to inch upwards which is nice to see, but the cold front we are experiencing has dropped the surface temperature a few degrees.  The spots are definitely in full spawn now.  We are seeing alot of spawning activity around the lake on humps, shoals, and in sandy pockets.  We are even starting to catch a few post-spawn spots. The fishing has continued to be very good over the past week. We have been doing well on numbers and quality every day.  There are a number of patterns working right now, and you can pretty much catch fish any way you wish.   We are still focused on main and secondary clay/rock points, shallow shoals around the banks and islands, as well as sandy pockets in 12 feet of water or less for the majority of this past week.  A finesse worm or a senko on a Picasso Shakedown Head has continued to produce consistently, and should continue to be a producer for several weeks. Look for the shallower brush on points and in pockets through the day as well, as we have been finding some fish staging around this brush which is often now just under the surface a couple of feet with the low water conditions.
A new swimbait called the Sweet Herring from the Sweet Bait Company has worked very well on some days in these areas also.  The Sweet Herring swimbait has also been good on the windblown rocky points and banks, as well as over the aforementioned shallow brush.  The fluke has continued to produce well also – points, docks, humps – all of the above are viable. When you are targeting the post spawn bass, consider using a weighted fluke – meaning use a shank weighted hook on the fluke.  Let it settle considerably between twitches.  The bass in this stage are often lethargic and are not as agressive.  The weighted fluke will get down to them more quickly.  We are continuing to get a topwater bite in the AM.  A Vixen, a wakebait, and a chug bug have been steady producers each day.  A sebile swimbait has also been good in the early morning hours.  The topwater bite is getting stronger and even becoming viable through the day.  Look for this to get stronger and stronger as we move forward through May and particularly into June. This is simply an awesome time to go fishing!  I only have a few dates remaining open in May: 18, 19, 20(AM), 23(AM), 31.  Give me a call and let's get out and have some fun!  I am also booking for June which should be the premium topwater month – these dates will go fast so get on the books NOW!  Thanks to all and May God Bless.