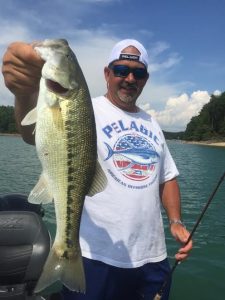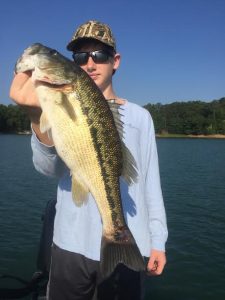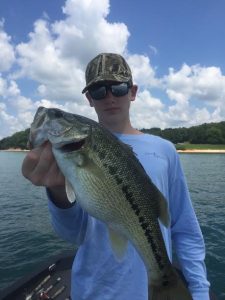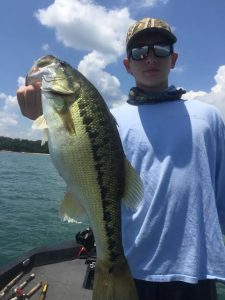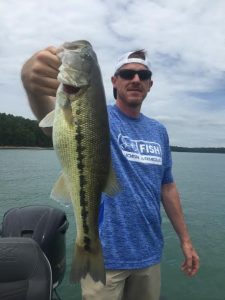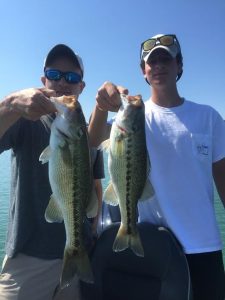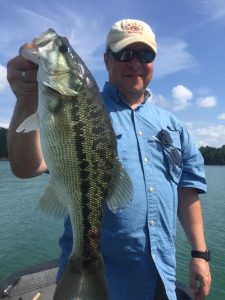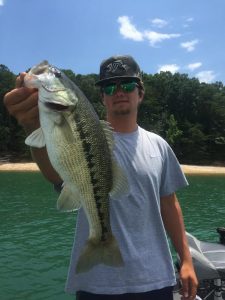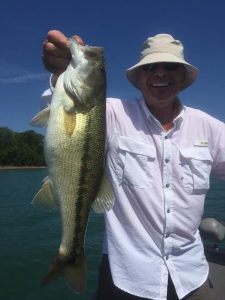 The Topwater Bite is still on!  Come out and enjoy an exciting fishing trip with me. Here are my upcoming open dates: June: 29(PM). July: 5, 6, 7, 10, 11, 12, 13, 14.
Water Temp – 82
Water Level – 6.39 feet below full pool
The fishing on Lanier remains very good.  The lake level and water temps have remained fairly stable over the last week.  The topwater bite is still strong and as long as we don't get consistently hot temps, it should stick around for awhile. Broken Record Alert: To sum it up, if it walks, pops, spits, wakes, chugs, or swims, it is a viable choice catch fish right now.  Focus on offshore structure with cover, such as brush on humps and points, for this approach. We are focusing on brush in 15-25 feet of water.  The bite seems to be better in the middle of the day than any other time, but we have are still seeing some good morning schooling activity again this week as well, for which the topwater lures have been excellent.  Just throw it in the action and hang on.  Wind blown points have been the best places for this action.  The fluke has continued to produce well also in the same type places.  Work it fast and then kill it and let it settle. Vary the cadence until you find what the fish want.  The fluke can be a good option when there is no wind. Also the swimbait bite has returned and has been producing some good fish.  I have been using the Sweet Herring and a Sebile.  Same places as mentioned for the topwater bite. We are starting to get some drop-shot bites as well and we are going to this when the topwater bite slows.  I have been using the Lanier Baits offerings.  This has been a decent option for us when the fish will not come up to play.   Here are my upcoming open dates: June: 29(PM). July: 5, 6, 7, 10, 11, 12, 13, 14.   Give me a call and let's get out and have some fun! Thanks to all and May God Bless.