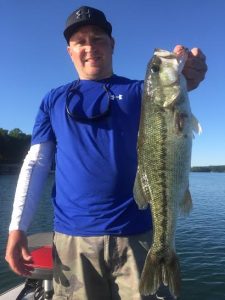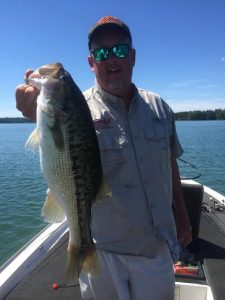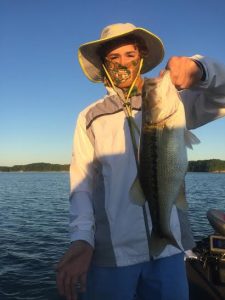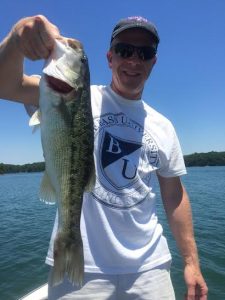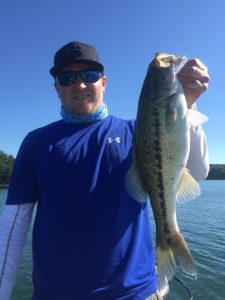 Water Temp: 80 degrees
Lake Level: 2.43 feet below full pool
Here are the dates I have open for July: 5, 6, 7, 11, 12, 13, 15, 18, 20(AM), 26, 27, 28.  The fishing on Lake Lanier has been fair this past week.  The cold front we had earlier this week seemed to have an effect on the fish and make them somewhat unproductive in comparison to previous weeks.  In general, the fish are becoming more and more active as we progress into June. The early morning bite for spots and stripers has been good with a variety of baits to include a swimbait and a topwater such as a sebile, or a chug bug and a gunfish.  We have been working humps and points with access to deep water.  Fish are typically around areas with brush, but not always. The early morning bite has been mainly a schooling bite. Catching these fish, which are often big ones, requires a precise cast to the area of activity.  Set up your rigs to make long casts to be ready for these situations. When the moving bait bite slows down, switch to a worm on a 3/16 oz Davis Shaky Head and work it slow. A Chattahoochee jig has continued to perform well also.  Experiment with the different baits to figure out which the fish prefer that day. Focus on main lake rocky points and on secondary points as well, and remember sometimes the fish are relating specifically to the brush, so make sure to work the brush thoroughly as well.  A SuperSpin around the brush is catching some fish as well.  So if the fish won't come up, make sure to toss this bait around and swim it slowly above and around the brush.  I am fully booked for June – thank you for all the calls!  Here are the dates I have open for July: 5, 6, 7, 11, 12, 13, 15, 18, 20(AM), 26, 27, 28  Give me a call and let's go fishing! Thanks to all and May God Bless.