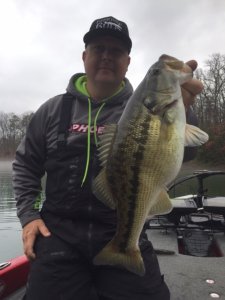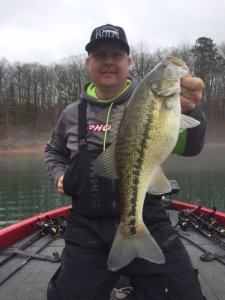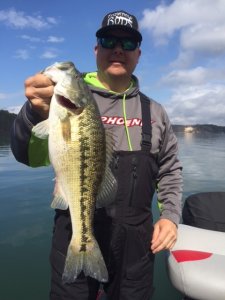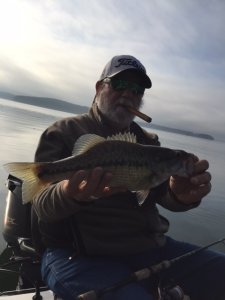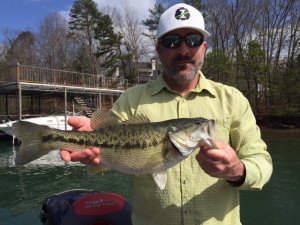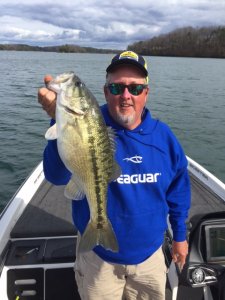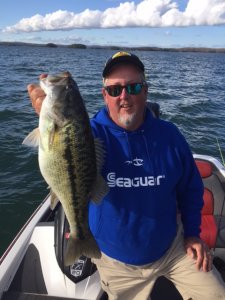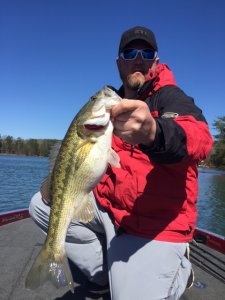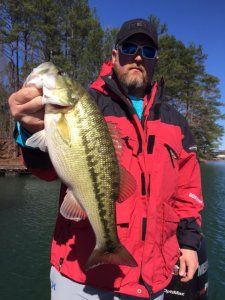 Hey Gang!  Here is my latest fishing report to help keep you on top of the newest trends on Lanier!  I am going to start posting this report weekly here on my site as opposed to monthly or every other week.  Make sure to check back every Thursday for the latest and greatest!  Thanks for tuning in!
Following is a list of my upcoming open dates for March: 6, 8, 9, 12, 13, 14, 17, 19, 20, 21, 22, 24, 27, 29, 30, 31.  Give me a call and come enjoy some outstanding Lanier pre-spawn fishing!
Lake Conditions
Water Temp – 56 degrees
Water Level – .3 feet below full pool
The lake has stabilized a bit over the last week as we have seen more seasonal temperatures and conditions return to our weather pattern. The backs of the major creeks are still stained, and the main lake below Brown's Bridge is still clear. The waters above Brown's Bridge are more stained in the main river areas than the lower lake, and the further you go north, the heavier the stain. We have found water temps near 60 back in some of the pockets on some days, both on the north and south end.  The fish are up and chewing!  It is fun out there right now. This incredibly fast warm-up has really jump-started the pre-spawn bite and accelerated the process significantly.
What's working…
The fish are biting all over the lake right now, and you can catch them pretty much any way you prefer. Picasso Shake-down head and worm combo, SPRO crankbaits and jerkbaits, spinnerbaits, Chattahoochee jigs – they have all been working well.  The location and technique for the best bite does seem to vary each day, and sometimes dramatically.  So stay flexible in your approach.  Try one type of area or technique, and if that is not working, move on. The fish we are catching are in 1-15 feet of water.   We are working shallow, flat points, both rock and clay, in pockets and on the main lake. The steeper stuff has held some fish too, but I am leaning more toward the shallower, flatter stuff in general.  Also the longer running points are starting to hold fish as well – check the reef poles and shoal markers on those warmer days.  Creeks and main lake are both producing, and as usual, focus more on the main lake or mouths of creeks for the bigger fish, and back in the creeks for numbers, but you are apt to catch a big fish anywhere right now. That's what makes this time of year so much fun!
Crankbaits are hot…
We hit a pretty good crankbait pattern this week, as Jim Farmer's Castaway Crankbaits did a number on those shallower rock fish.  He has some great spring crankbait patterns and sizes – look him up and make an order.  We did a video together this week where I had the opportunity to crank with Jim and also talk about the importance of good quality flourocarbon line for cranking – Seaguar Abrazx is my choice in 10 lbs test.  It is durable and stands up to the pounding on the rocks way better than any flourocarbon I have ever used. I highly recommend Seaguar!  The docks are holding fish as well.  Check those docks back in creeks or pockets that are in 15 feet of water and less.  Look at the last 2 or 3 docks in any creek arm or pocket for those largemouth.  Look for the fish to be under the docks when the sun is up, and more just around the docks in low light or clouds. A Picasso Shake Down head and worm combo or a Spro Jerkbait are good options around the docks.
Open Dates…
The fish are CHEWING! It's time to fish!  Following is a list of my upcoming open dates for March: 6, 8, 9, 12, 13, 14, 17, 19, 20, 21, 22, 24, 27, 29, 30, 31.  Give me a call and come enjoy some outstanding Lanier pre-spawn fishing!
Thanks to all and May God Bless!