See what local high school anglers are saying about fishing with Jimbo…
No Results Found
The page you requested could not be found. Try refining your search, or use the navigation above to locate the post.
"I have fished with Jimbo for nearly five years.  Before I had a boat, my parents would get me a trip once a month with Jim just so I could learn the lake and become a better fisherman. Throughout the years of fishing with Jim, I have become a much better angler and person as a whole. Jim has had a great impact on my life through being a mentor and a friend. Our time on and off the water has impacted my walk to manhood. Besides the influence he has had on my life, he flat out knows how to put you on fish. He is the reason why I am hooked on fishing and I have caught an innumerable amount of trophy spotted bass in all times of the year. I have learned so much about the lake and how fish move throughout the year because of Jim. Jimbo is hands down the best guide on Lanier for learning techniques, learning the lake, and catching big fish. Jim, thank you so much for all you have done for me, and I truly recommend anyone who wants to catch some big fish to go out with Jimbo on Lanier."
Bass fish rely on their sensory experiences to navigate their environment and locate prey. Understanding how they perceive their surroundings can help you trigger more bites. We are speaking of spots particularly, but these facts hold true for all...
I love to fish, and I am guessing since you are reading this, you do too. Part of fishing is taking responsibility for caring for both the fish and the fishery.   As anglers, it is our obligation to reduce stress and injury to bass during...
Being a father of 3 himself, he understands how to connect with and teach young men and women the sport of bass fishing. Whether your young man or woman is a novice or a tournament competitor looking to polish his or her game, don't hesitate to call Jimbo for a class on the water!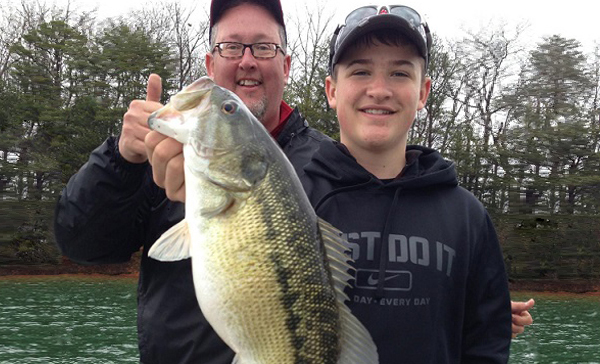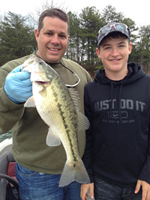 "About 18 months ago, my son Noah (of Kickin' Their Bass TV fame) became extremely interested in bass fishing. Given the fact that I have never been into the sport of fishing, I needed help to ensure my son got on a good path with this new endeavor. After researching the available guides on Lake Lanier and talking to a few long time lake friends, we choose Jimbo. Man, I am glad we did. I can tell you as I look back on the 12 plus trips we have taken with him since then, we made a great decision. On our initial trip, the very first thing Jim did was stop the boat and ask about Noah and what the goals were on the trip. This let me know he truly cares and found a way to connect with us so that we learned in the most efficient manner possible. While all of our trips were fun, they were geared towards teaching my son the basics and building from there. He was always a patient, detailed coach/teacher and always put in the extra time to ensure growth and satisfaction for myself and Noah. Jimbo has now became like one of our family – even if we are not on a trip with him we can call anytime and he always keeps us updated with the latest techniques and presentations that are working on the lake that week. Jimbo has also leveraged his relationships in the fishing business to help Noah grow in the sport. I know Jimbo did this out of kindness of his heart and because he is the caring person that he is. Now my son has grown into a talented competitive angler under Jimbo's guidance and mentorship. My son really loves him and is very grateful for all he has done for us, they are like old buddies now. So, in conclusion, if you want a guide that can do a lot for you, go see Jimbo! He is very kind-hearted and knowledgeable, and he is like a brother to me and moreover, a great fisherman that surrounds himself with top notch people. If you are ok with mediocre then can call someone else, if you want the Best then call Jimbo."
Steve Pescitelli Owner – Extreme Heaters and Ssairsoft Cqb of Buford, GA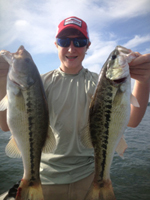 "My son Will (WHTVOutdoors) became extremely interested in bass fishing a few years ago. Given that I had a very limited background in fishing, I knew I was going to need help to support his growing passion for the sport. We reached out to Jimbo and explained that we weren't really looking for a guide – we were looking for a tutor. We haven't looked back. Every trip starts with Jimbo asking: "Will, what do you want to work on today?" Jimbo obviously knows how to fish, but he also has a gift for teaching. He is patient and constructive and truly cares about ensuring the future of the sport by nurturing young anglers like Will. Will's learning curve has been greatly accelerated. One of our goals has been to get Will ready to succeed in tournament fishing, and he is well on his way thanks to Jimbo. At 13 years old, Will is already holding his own with the adult competitors in tournaments. Certainly no young fisherman can expect to do that without a lot of help. In addition to being very generous with his time and advice, Jimbo has leveraged his relationships in the fishing community to help Will develop other friendships and secure sponsorships. Finally, one of my concerns as a father is the character of the adults that interact with my children. Jimbo is not only a great fisherman and a great teacher, he is also a man of integrity and a great role model for young men."
Richard Hankins
Check out the Jimbo Store!
New t-shirts, full seminar videos, video fishing reports, and more to come!