Jimbo's Weekly Video Fishing Reports
Now including updates between the Weekly Reports!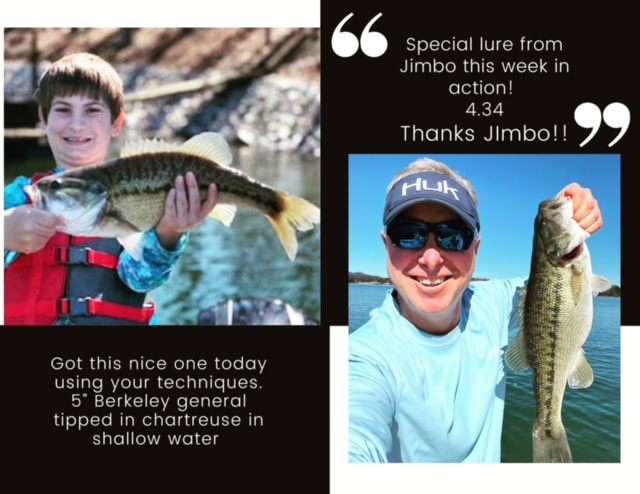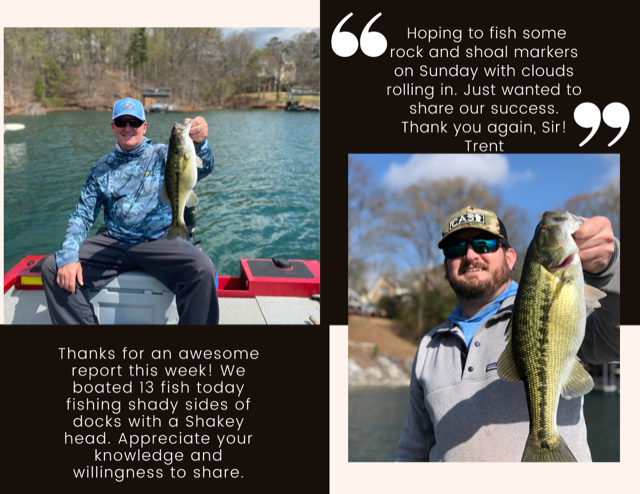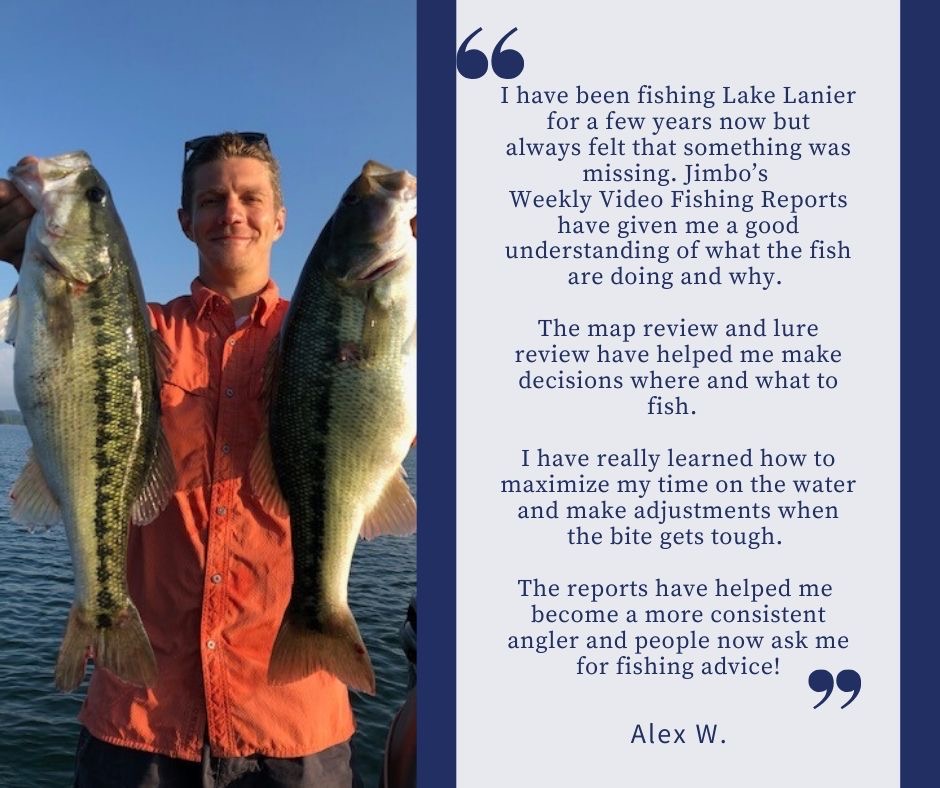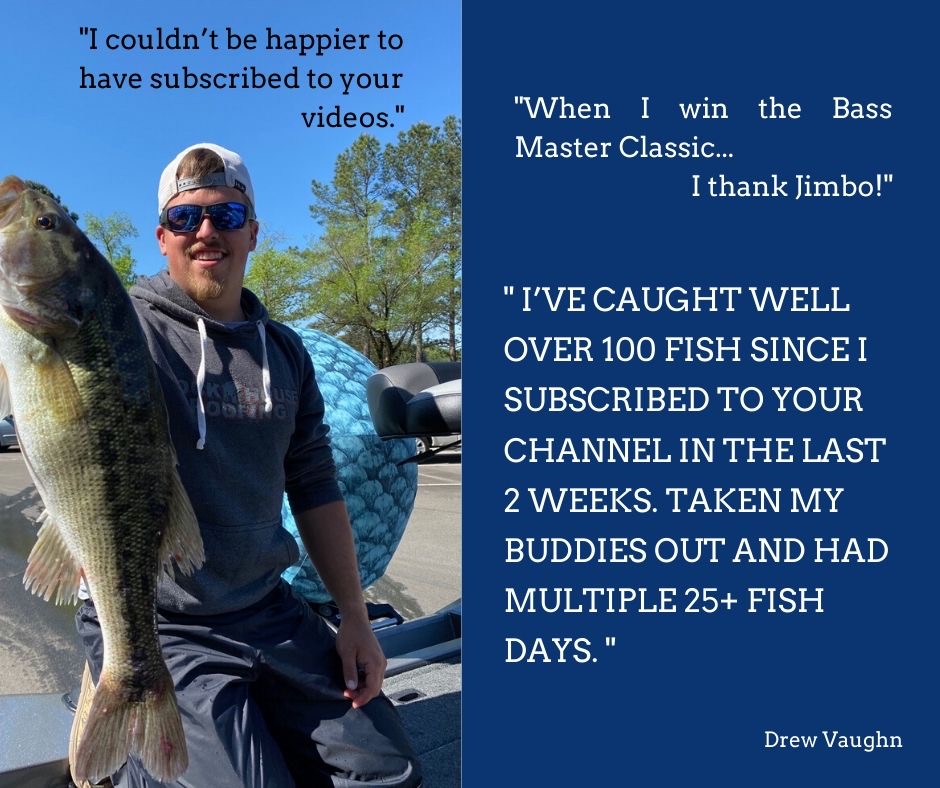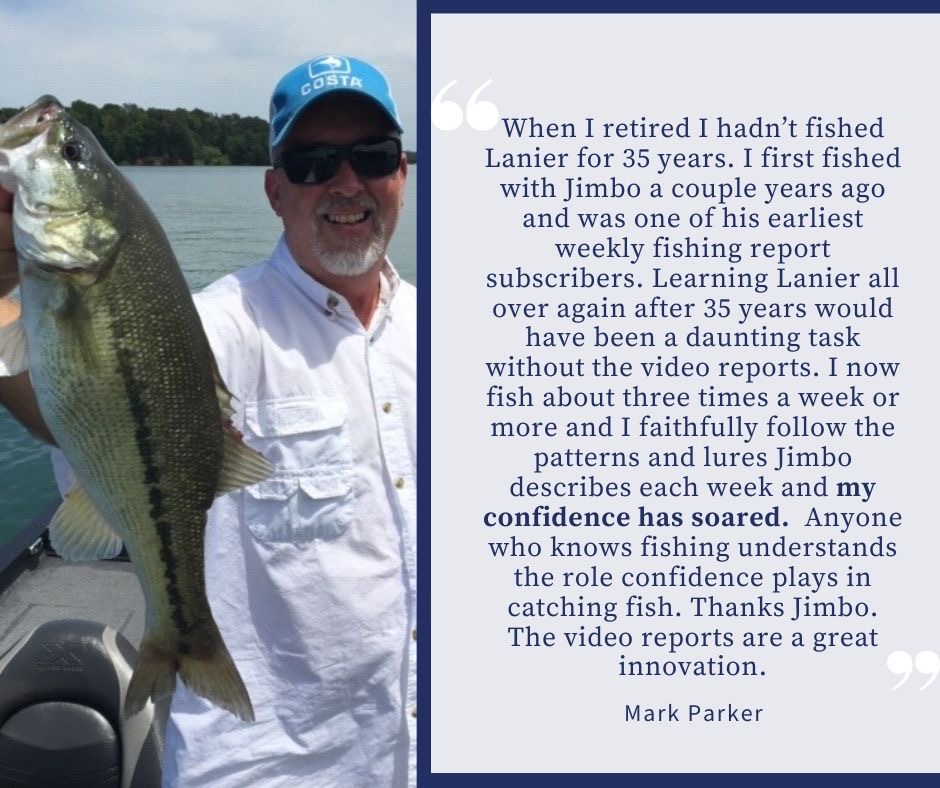 How Can I Join? 3 Easy Steps!
1: Pick and Purchase a Package
(Please make sure your paypal email is the one you use. Your registration link will get sent to this email.)
2: Check your email for a registration link. Click that link to set up your username and password.
3: Log in & enjoy Jimbo's Weekly Videos!
How Can I Cancel My Subscription?
Annual Subscription
Yes! I want to purchase an entire year subscription in advance for a special price of $17.50 per month ($210.00 total charge) - I will have access to the weekly, in-depth and detailed video fishing reports, INCLUDING LOCATIONS AND VIDEO LIBRARY ACCESS, and NOW DAILY VIDEO UPDATES each week for an entire year from the date of subscription!
Monthly Subscription
Yes! I want to have access to weekly, in-depth and detailed video fishing reports, INCLUDING LOCATIONS AND VIDEO LIBRARY ACCESS, and NOW DAILY VIDEO UPDATES from Jimbo at a Special Rate - $18.95 per month.
Purchase ONLY This Week's Video
Have a tournament coming up this weekend?  Only Fish Lanier a few times a year? No time for a guide trip?  This is the PERFECT Option for You!  Be Prepared!
Enjoy weekly video fishing reports from Jimbo on Lanier that will offer you very detailed and specific information regarding how Jimbo has been catching spotted bass this week on Lake Lanier.  Best Patterns, Lure types, sizes, and colors will all be detailed, in addition to specific presentation insights and "How To" direction that is sure to make the difference!  Also included will be information on types of locations that have been targeted for each pattern discussed, coupled with MAP-DENOTED LOCATIONS that have been producing fish THAT WEEK!
Further, Jimbo will then provide a methodology of approach for what he anticipates to happen with the bite in the days ahead – "Jimbo's Future FishCast!"  That's right, each week Jimbo will give you his prognostication as to how he would approach the coming days based on everything he has experienced on the lake that week!  He will factor in current Lake Lanier conditions, current patterns, and the current weather forecast, in addition to moon phase influence, to give you his best guess on what the fish on Lake Lanier will be doing in the coming days. AND, as of April 2023, enjoy DAILY VIDEO UPDATES which will build on the previous week's detailed video report!
While this service is not a replacement for a guide trip with Jimbo on Lanier, Lanier's long-time and most trusted guide, and knowing you will always learn more with personal, on-water instruction, we do hope that you choose to join Jimbo right here each week for a 15-20 minute video, PLUS Daily Video Updates, that will most certainly make your valuable, and often limited, time on the water as productive and enjoyable as possible!  Thank you!
Please note the service will be offered 44 of the 52 weeks of the year (will not include some August reports, and as well will allow for holidays and 2 weeks of vacation). Daily Update Videos will be provided 2-3 times per week, between each Detailed Weekly Video Report. Accounts will auto-renew each month/year based on how you have subscribed.
"Always struggled worm Fishing. Your tip this week about SLOW way down was working today. Move it six inches, hold the line kind of tight, wait for the bite. Every bite today came on the pause"
"Loved the video this week! Longer the better every bit of information helps. Went out today and caught two real nice spots real shallow on clay points thanks to the video."
"Jimbo! Just wanted to say that you do such and awesome job on your videos!! I really look forward to Thursdays!! Hope you had a great week and Happy Easter to you and your family! All the best!"
"Love the weekly report videos.  Much better than a written report and worth the money.  Don't worry about the length…..the longer the better!!!"  
"Hey Jimbo I just want to say thank you for doing the weekly video reports, they are definitely helping me become a better fisherman. I was out today for about 3 1/2 hrs. Had a great day for me, catching 9-10 fish mostly in 2-3 lb range with 1 at 4-5 lbs! All fish came on the pearl white fluke. Thanks again for your help and the wonderful video reports! Have a great evening."
"Hey Jimbo! I couldn't be happier to have subscribed to your page. I watched you video front Thursday and put in at Little Hall, Caught 35 fish on a fluke with a buddy and then 20 spots today and 5 Large Mouth on bed in the backs of the pockets you highlighted. I'm from places with only large mouth bass fisheries, these highland reservoirs have been super tricky for me and your videos are obviously better than any content I've ever been by on YouTube. Can't wait to get this corona virus past us and get on the boat with you! Thanks man, God bless."
"Hi Jimbo. I am one of your subscribers. I fish in a small club and I usually come in dead last. Well….. Guess what? Now that I have you in my corner, we came in 2nd place out of 15 boat's. We missed 1st place by 1 1/2 oz. If you share this, please don't reveal who I am. I don't want the other guys in my club to know my secret. Lol"
"Good report. It's great because I went yesterday and killed it. I found the exact pattern you spoke of. fished way up north, Saw top water schooling, moved in with a fluke and scored several. Went back later, moved out further and found bigger ones piled up and drug a spinner bait below them and pulled out another load.
The report is nice because it confirms the question in my head yesterday."is this a one off pattern" and your research and video gives me confidence that I actually found something and made the most of it. Thanks!!!!"
"Fishing report was dead on! Thank you very much for making it available. My son and I caught 26 today on nothing but the 3.3 swimmers in the same locations you posted. I caught 2 that weighed over 4 pounds!"
Check out the Jimbo Store!
New t-shirts, full seminar videos, video fishing reports, and more to come!