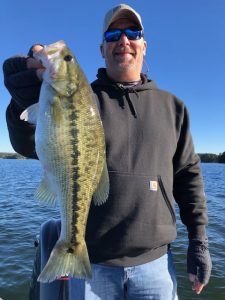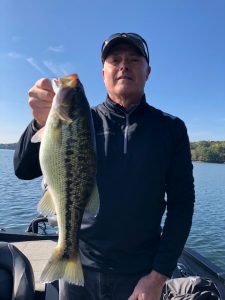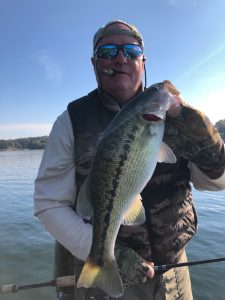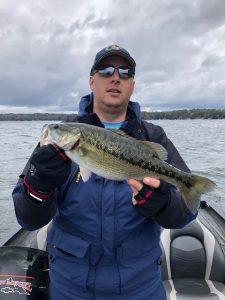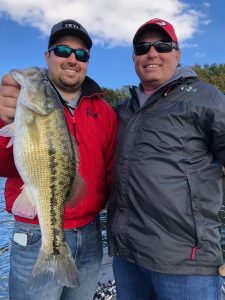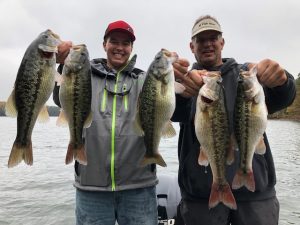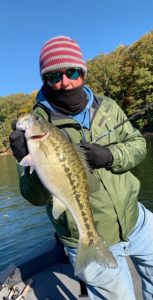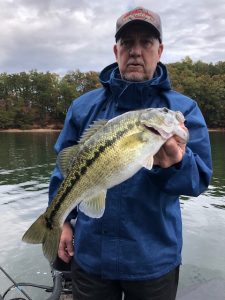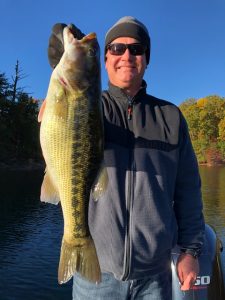 Come enjoy some fantastic Fall fishing!  Here are my open dates for November:  15, 16, 19(PM), 20, 23, 26, 27, 28, 30(PM).
Current Conditions
Water Temp –   66 degrees
Water Level – 1.5  feet below full pool
The lake is clear on the lower end, and showing some signs of turnover at and above Brown's Bridge. I'm sure all the rain we have received today will impact the water clarity, particularly in the rivers.  The lake is also on the rise and probably will be for the next couple of days.  Be careful and watch out for floating debris.
Where are the Fish?
The fishing has really been good the past few weeks. We have continued working shallower rocky points with spinnerbaits, crankbaits, jigs, and worms for the majority of our fish.  We have enjoyed some swimbait activity at times over brush and on schooling fish, but the aforementioned baits have been our main pattern.  When the fish are active, the spinnerbait and crankbaits are hard to beat.  Try using a deeper diving crankbait, like the Spro Little John DD, on those shallow points – keep the bait digging on the bottom.  You can cover water quickly and find the aggressive fish.  When the bite slows, switch to a worm and jig presentation in those same areas and back out from the shallows.  The chasing fish have been in 10 feet or less, and the worm and jig fish have been more in the 12-20 ft. range, but we have found them to be very shallow at times as well. Focus on the shallower rock points in both the mouths of creeks as well as the main lake.  Also the mouths of creek pockets in the first half of the major creeks have been productive as well. It is really fun out there right now gang!  I look for this upcoming cold front to move some more fish into the ditches.  It should be a good ditch bite this year!    November and December are some of my favorite months on the lake – I hope you will make plans to come join me!
Open Dates
Come enjoy some fantastic Fall fishing!  Here are my open dates for November:  15, 16, 19(PM), 20, 23, 26, 27, 28, 30(PM).  I am also booking dates for December.  Lot's of great fishing ahead of us in the coming months, both morning and afternoon!  Give me a call and let's fish!  Thanks to all and May God Bless!