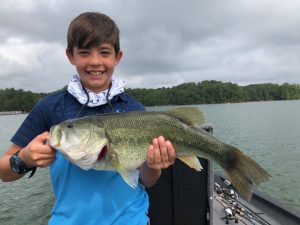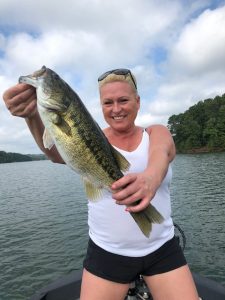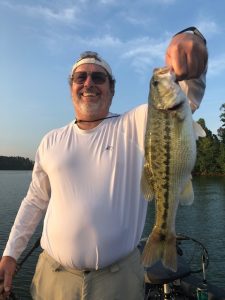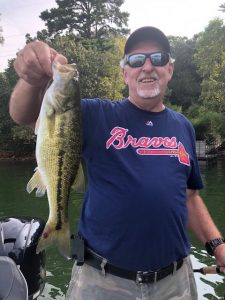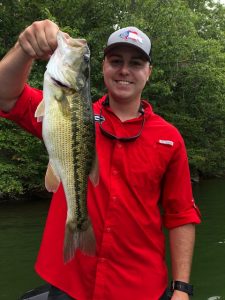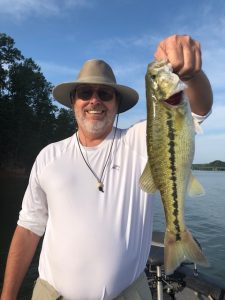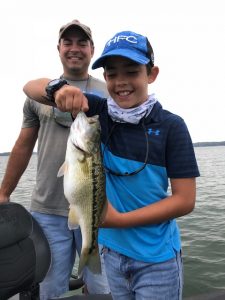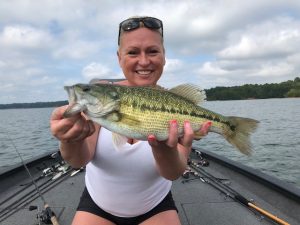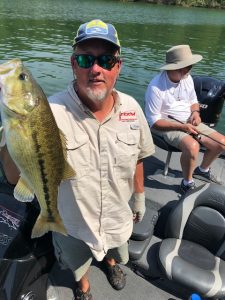 Schools Out This Week!
Hey Gang – It's Fall Break!  It's a great week to get out with the kids for a day of fishing.  I have Monday (9/17), Tuesday (9/18), Thursday (9/20) and Friday (9/21) open this week.  The weather is going to be cooler after the remnants of Florence pass through – come on out and enjoy some fun – those fish should bite!
Current Lake Conditions
Water Temp – 85 degrees
Water Level – .3  feet below full pool
The Corp has continued to pull water, but mainly in the evenings of late, as opposed to through the day.  The lake is now down from full pool for the first time in a long time.The lower lake is still mainly clear with a slight stain back in the creeks. Above Brown's Bridge the water is slightly stained in the creeks, but fairly clear in the main river channel up to the Gainesville Bridge. Above the Gainesville bridge there is even more stain both in the main river as well as the creeks.
The Fishing Update
While the bite is still tough, it is definitely improving.  We have found good results, in short bursts, on several different tactics.  The topwater and swimbait bite has came back on some days, which is refreshing to see. When it is there, its pretty good.  Humps with brush have been the best option for that approach.  Walking baits, Whopper Ploppers, and a Sebile have been our best options.  A SuperSpin with a Keitech trailer has still been productive as well on main river points as well as creek points.  Also, very shallow on steeper creek banks has proven productive with the SuperSpin this past week.  We have been fishing lay-downs on steeper rock areas for some good fish on a weightless fluke rig.  A jig has been good on these laydowns as well.  Not a ton of bites, but certainly some good ones when you do get bit.   When you see them hanging out on your graph in any depth, search around that area and fish it hard.  If there is bait around, there is a bite to be had, but plan on working for it!  I am seeing lots of bait starting to move back into the mouths of the creeks recently, and a lot of schooling going on both in the main channel as well as in the mouths of the creeks. These fish are tough to catch however as they don't stay up long.  A SuperSpin has produced better for us than any other option on those schoolers. Good luck to everyone fishing the BFL this weekend, hopefully the weather will hold for the event.
Open Dates
The bite is starting to improve and should just continue to get better through the fall.  For September, I have: 17, 18, 19 (PM), 20, 21, 24, 26, 27, 28, 29. Now is the time to book your fall trip!  Lot's of great fishing ahead of us in the coming weeks! I am also booking for October! Give me a call and let's fish!  Thanks to all and May God Bless.