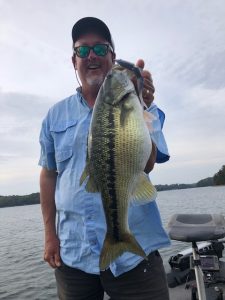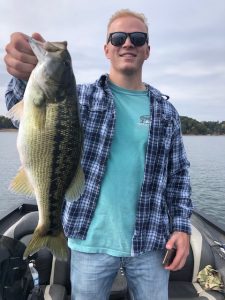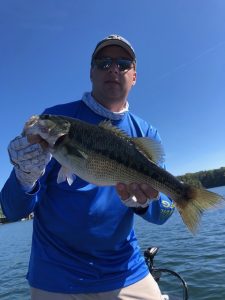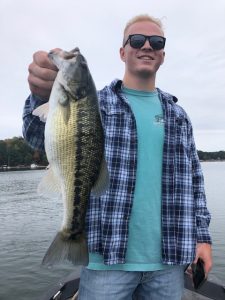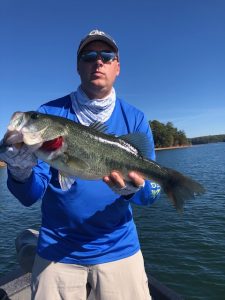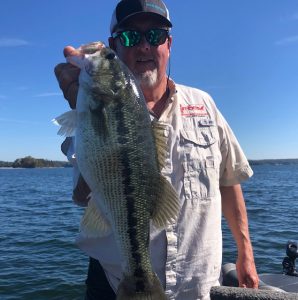 Current Conditions
Water Temp – 67 degrees
Water Level – 3.7 feet Under full pool
Currently the lake stands at 3.7 feet under full pool which is up more than 1/2 foot from last week, and the surface temperature sits at 68 degrees this week, and will be dropping more with the cold nights we have ahead.
What's Happening on the Lake
The bass fishing on Lake Lanier has again been very good this week. Rocky areas at the mouths of creeks as well as main-river points are holding fish, and at daylight these fish are up and chasing bait. Moving baits are the ticket on these fish – topwater, swimbait, jerkbait, spybait,etc. We are also catching spots on points and humps in 15-25 feet of water, more towards the mouths of the creeks. The topwater and swimbait bite has been strong this week. Note that with cloud cover, the fish will tend to be shallower and roaming more. With the sun up, the fish seem to concentrate more around the brush on structure as the day goes on.
We are seeing some good schooling activity from daylight until around 10 am in the mornings, which will continue through October. With cold fronts like we are experiencing this week, make sure to change your approach to match the mood of the fish. Typically the fish are not as aggressive post front. Look for the topwater bite to wain with the cold weather – look for some of the other normal fall patterns to dominate in the coming weeks.
Subscribe to my Video Reports to get ALL THE DETAILS!
Want more detailed information on the bite this week including specific strategy and approach for handling cold fronts, and what the next patterns will be based on the cooler temperatures? Subscribe to my weekly video fishing reports here: https://jimboonlanier.com/jimbos-weekly-video-fishing-reports/
Open Dates
Book your trip NOW for some great fall action! Here are my open dates for November: 5 (PM), 6 (PM), 7(PM), 11, 15, 18, 19, 21 (PM), 22. Give me a call and let's fish! 770-542-7764
Here are my open dates for March:  18(PM), 19(PM), 26(AM), 28(PM), 30. The pre-spawn bite is on - give me a call and lets go fish! A BIG THANK YOU TO: John Megel Chevrolet and 400 Ink - Hopefully you guys have had an opportunity to watch the recent video announcement...
read more
Check out the Jimbo Store!
New t-shirts, full seminar videos, video fishing reports, and more to come!