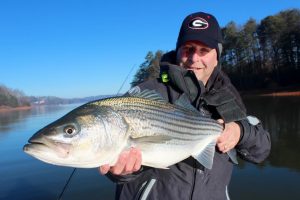 Hey Gang –
As I mentioned in my inaugural post, I want "Hook Me Up Jimbo" to be a resource that provides the local fishing community with information, recommendations, and direction to help further the pursuit of our joint passion – fishing.  This week, I want to put a spotlight on a local guide that has reached "Hall of Fame" status in his designated area of expertise – fly fishing. The short bio below will give you some brief insights and introduction to Henry Cowen, a 16 year veteran of guiding on Lake Lanier.  Folks, I have had the pleasure of knowing Henry for several years, and he is the best at what he does. Without question, nobody has excelled to the point Henry has in the local market and around the country than Henry Cowen.  We are coming into the season where Henry is king – Fly Fishing for Stripers on Lake Lanier. While Lanier is only one of many bodies of water with which Henry is familiar, from now through the winter months and into the spring, simply put, Henry is THE MAN.  If you are looking to learn more about the fine art of fly fishing and catch big Stripers in the process, do not miss this opportunity to call and book Henry Cowen, a 40 year veteran of the sport, for a fly fishing trip this fall and winter.  He has a national reputation for plying his trade as the BEST at what he does, so call soon as he books up quickly.  Read more below about Henry and how to contact to him. Finally, I would like to offer a huge "Thank You"  to Henry for his care and concern for our fishery on Lake Lanier. He sets a fabulous example for us all in terms of being a true professional and caring for always doing what's right – a trait that I greatly admire.  Here's to you Henry!
Henry has been pursuing striped bass for nearly 40 years in both salt and fresh water. He is currently guiding in fresh water on Lake Sidney Lanier, Lake Allatoona, and the Chattahoochee River near Atlanta for landlocked stripers, hybrids, spotted bass and carp. Henry is an accomplished fly designer as his trademarked fly patterns are sold worldwide through Umpqua Feather Merchants. His fly patterns as well as techniques to fly fish continue to appear in magazines such as American Angler, Fly Fish America, Fly Tyer, Fly Fisherman, Angler Magazine and Eastern Fly Fishing. Currently Henry's name appears on the masthead of both American Angler and Angler Magazine as a contributing writer/editor. Henry was named to the esteemed Yellow Dog Fly Fishing field advisory staff. Henry continues to give seminars on light tackle & fly fishing in both fresh and salt waters. Henry has appeared as a guest on a number of nationally televised outdoor shows (The Ford Outfitters, The Orvis Sporting life, The Reel Guys, One More Cast w/Shaw Grigsby, O'Neill Outside, Travis Johnson Outdoors & The Nuts and Bolts of Fishing) and continues as a weekly guest on the O'Neil Outside radio show. Henry helped produce and also appears on the video "Fly Fishing for Landlocked Stripers". You can visit his web site @ www.henrycowenflyfishing.com or contact him @ 678-513-1934
Welcome to Hook Me Up Jimbo!  I am excited to introduce this new addition to my website and hope that my readers will share in that excitement. The goal of this blog is to provide information relevant to the fishing community of Lake Lanier.  We will focus on topics...
For years you have counted on Jimbo for reliable information on the daily spotted bass activity on Lake Lanier. Jimbo is stepping it up a notch and will now be providing you with even more relevant information in addition to the fishing reports. Not only will he...
Check out the Jimbo Store!
New t-shirts, full seminar videos, video fishing reports, and more to come!